About Genova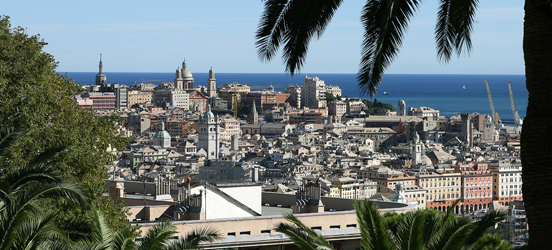 Genoa (Italian, Genova) is Italy's sixth largest city and a historical port city in northern Italy, the capital of the Region of Liguria.
In ancient times it was the most important harbor of the Mediterranean sea and has a long history as a rich and powerful trade centre.
With its multitude of hidden gems behind cozy alleways, rennovated old port - Porto Antico Area, based on Renzo Piano's project, beautiful sights (including one of Europe's biggest aquariums), and its position as the European Capital of Culture in 2004 have made the birthplace of explorer Christopher Columbus an enticing place which is gradually becoming more included in the touristic market. With pastel-coloured terracotta-roofed houses, artistic churches, lovely seaside villas, and also several luxurious boutiques, Genova is a must see if you want to experience the "quintessential" Italy.
Genova is known to have Europe's biggest historical center. This is the heart of the old city. It's made up of an incredible amount of tiny streets and alleys called Caruggi.
The Piazza de Ferrari has become an important part of Genoa and this large public square is bordered by many leading sights and tourism opportunities, such as the 14th-century Palace of the Doges (Palazzo Ducale). Also worthy of investigation is the renovated harbour area itself (Area del Porto Antico), along with the palazzi dei rolli which is present on World Heritage List of UNESCO, easterly Boccadasse neighbourhood and its many fishing boats, next to the Corso Italia.
Genova is also reknown for its excellent culinary product "pesto" and other typical and delicious dishes and food (notably fish, seafood, "focaccia", "farinata", "torta pasqualina", "cappon magro", etc.).

Text excerpt from: Wikitravel
For further information:
Wath to see
Top 10

Museums and art galleries

Places of interest

Park and villas

Forts

Famous people

Enjoying Genova